ZOO - reviews and comments
What people think...
ZOO - live reviews
Jet Collective perform The Derbyshire Suite at Buxton Festival Fringe, 18th July 2012
We don't get much jazz on the Fringe and to have an original suite, expertly played was a very welcome addition to the programme.
The Jet Collective came about almost by accident last year and the line-up isn't conventional: two saxes, electric guitar, bass, drums and three keyboards (plus miscellaneous shakers, recorder and, delightfully, melodica). This combination must have presented challenges when it came to composition and the option of a trumpet, perhaps, might have been welcome at times.
The Suite comprises 13 pieces - all prompted in some way by the experience of being in Derbyshire. Some are relatively obvious in terms of inspiration. The opening 'Storm over Derbyshire' by pianist Paul Biggins - with a rolling and rumbling McCoy Tyner-like figure - was especially appropriate for this year. Other movements needed more explaining. The finale - 'Shaw Croft' - takes its name from the site of the Ashbourne Shrove Tuesday 'football' match and one saxophone represented the 'Ups' while the other took the part of the 'Downs'.
The music drew on a wide range of forms for inspiration. So, for example, the Castleton carol 'Down in yon forest' provided a simple but charming starting point for one piece. Jigs and morris dance tunes also found their way into the suite. For me the highlights included the bluesy 'Back Home', which featured Sara Littlefield's tenor sax and the bossa nova 'Summer Peaks' - written by Wendy Kirkland. (Incidentally it was a pleasure to hear a jazz outfit in which women took such a central role).
By calling themselves a Collective this group seems to eschew leaders and everyone had a chance to shine either instrumentally or as a composer. Pat Sprakes' bass sounded strong and purposeful all night and Clive Loveday's drumming was subtle and sensitive. Karen Clegg provided some lovely vocal touches - as well as recorder and melodica solos. Steve Salfield - on tenor and soprano - shared the saxophone duties as well as contributing the boldest composition 'Mills & hills, mines & moors.'
Reg Clegg's guitar was thoughtful throughout - and his work in producing the CD of the Suite is excellent. The last member of the Collective - but certainly not the least - is pianist Paul Biggins whose strong compositional sense was also evident in his improvisation.
The Collective had to wrestle with the acoustic of the Church at times - piano recitals have sounded very good here but the amplified jazz was a little muddy at times (not, I think, a musical metaphor).
If you missed the JET Collective in Buxton you can remedy that by hearing them on August 2nd at Club Chesterfield - www.chesterfieldjazz.com - or buy their music at www.jetcollective.org
Keith Savage http://www.buxtonfringe.org.uk/reviews2012mus.html
Jet Collective perform The Derbyshire Suite at The Burton Institute in Winster, 9th October 2011
Two personal reviews:
"Wonderful exciting music, I would not have believed that music so vibrant, and of such quality would be produced by 8 musicians in Winster village hall. Jazz themes but with folk hints lurking in the background. The music caught the mood and experiences of Derbyshire, from the mines to the morris men. Not sure about the bossa nova beat re the Derbyshire hills!
"Having run The Strand, a jazz cafe for 22 years, I have heard a great many musicians, and The Jazz Collective definitely deserves a much bigger stage.
"If only a BBC producer had been present!! Keep up the good work."
"Awesome thank you for letting me see that, I loved it'
Lucas was spellbound last night - and me too!
What a fantastic sound you made and so fun too see all the percussion instruments
I thought the pieces were all so unique it was very interesting so hear the contrasts - Allan and Lucas loved the Morris dance!!"

ZOO with Stuart McCallum and Beats and Pieces Big Band, Leicester Y Theatre, 7th November 2010 (JetCollective Jazz x 3)

"The Y Theatre hosted one of the most imaginative and innovative jazz performances I've heard for a long time."

"First up was Stuart McCallum playing ambient style solo guitar, sometimes enhanced with electronic loops. Amazing Grace showed his musicality as he did something new with a hymn, while original Vital Space added electronic reminiscent of John Martyn. John Coltrane's Blue Train was the highlight."
"Next up were Zoo. I could have listened to more of John Sanderson's reeds, and there was a moment of genius in the introduction to original Walking Not Running with Middle Eastern sounding bass clarinet and wordless vocals..."

"Then with a fanfare of blazing horns, the Beats & Pieces Big Band announced their arrival in style, playing witty, innovate arrangements." Leicester Mercury

Stuart McCallum | Beats and Pieces | Y Theatre | Jet Collective
ZOO with Guy Barker performed for Jazz Steps at the Bonington Theatre in Arnold on Thursday 13 August 2009.
Bonington Theatre, neatly tucked away on top of a leisure centre, home to Jazz Steps - Nottingham's definitive jazz connoisseurs - this is a delightful little venue: intimate, atmospheric, and ultimately the perfect spot to succumb to the wiles of the genre.
Introducing ZOO: a Derbyshire based quintet praised for their distinctive vocal approach and laid-back style. Arriving on stage with them was trumpet maestro Guy Barker; a collaboration that incites a delicious evening of fabulous music.

These guys are undoubtedly amazing musicians, and boast that enviable talent where every instrument they touch becomes a natural extension of the body. In the second half of the evening ZOO and guest, Barker, really began to cook. There was some stunning pieces that screamed seedy jazz club: swinging-hip grooves, rich harmonies and Barker's trumpet growling over the top. Now maybe I'm just partial to a bit of smut, but it was such moments of unified sleaze that rendered me that little bit hot under the collar.
ZOO do showcase some exceptional musical capabilities and their approach to the jazz fusion genre offers an interesting blend of acoustics, electronics and vocal dominance. This is a group about which you should definitely make up your own mind.
Photos courtesy of Bob Meyrick (c)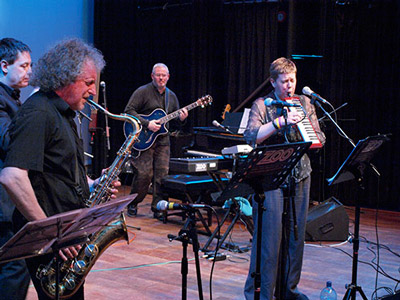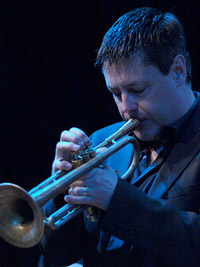 ZOO on myspace | Guy Barker website | Jazz Steps website
Left Lion Review, Leftlion.co.uk, Aug 09
Hannah Boylin went to see ZOO with Guy Barker at the Bonington Theatre in Arnold

---
Jazz with Alan Joyce
Friday, August 07, 2009, 07:30
Nottingham Evening Post.
DERBY jazz fusion group Zoo, which has made a favourable impact locally with frequent visits to Jazz At Dexter's, provides an early opening to the new Jazzhouse season in the Bonington Theatre, High Street, Arnold, next Thursday. For the occasion Zoo teams up with UK trumpet ace Guy Barker.

Zoo bases its music around the song writing skills of multi-instrumentalists Paul Biggins and husband and wife team Karen and Reg Clegg and has recently gone from a trio to a quintet with the addition of highly accomplished saxophonist John Sanderson and versatile drummer Ian Beestin.

Barker took up the trumpet as a child and studied formally at the Royal College of Music. One of several brilliant British musicians to come up through the ranks of the National Youth Jazz Orchestra, he has always attracted media attention. Barker's pure-toned melodic playing, allied to a crackling, boppish attack, makes his solo work particularly attractive and exhilarating.

---
Review of ZOO at the Lichfield Real Ale, Jazz & Blues Festival, July 2009, by TheJazzMann.com

Saturday's proceedings commenced with ZOO, a quintet of Midlands based musicians centred on the Derby area. Their music is based around the song writing axis of Karen Clegg (voice,keyboards,melodica), Reg Clegg (guitars and bass) and Paul Biggins (guitars, keyboards and bass). This core trio are now complemented by the highly accomplished saxophonist John Sanderson and the versatile drummer Ian Beestin.

With ZOO's music there is an element of grit in their writing that makes them far more interesting than their smooth exterior might suggest. Fundamentally this is a song based band and those songs are intelligent and well crafted with a welcome touch of both bile and whimsy in the lyrics. That is not to say that the group lack instrumental expertise. The husband and wife team of Reg and Karen Clegg plus songwriting colleague Biggins are all talented multi-instrumentalists and Sanderson an inspired soloist on the moments when he cuts loose. Drummer Beestin offers flexible and sympathetic support in a thoroughly dependable manner.

ZOO are nothing if not prolific. Their new album "End Of The Telegraph Wires" (which will be reviewed on this site in due course) follows swiftly on the heels of "Endangered Species" (2006) and "Greenhouse" (2008).
Unfortunately I missed the start of their first set but arrived in time to hear the reflective "Could've" with Karen's rueful lyrics and vocals complemented by a fine tenor solo from Sanderson. Many of the group's songs are about relationships gone wrong but they avoid all the clichés and the lyrics have a bitter-sweet, poetic edge. "That's It" from "Endangered Species" falls into this category and here boasted an intriguing arrangement for twin guitars (Reg Clegg and Paul Biggins) with Clegg's solo making good use of effects to produce ghostly scratchings and scrapings that were wholly in line with the arrangement and subject matter. The first set closed with Biggins' "Leave It All Behind" a more optimistic song of escape featuring Sanderson on soprano.
Their second set included "Life In A Day" featuring Reg on slide guitar and Sanderson on tenor.

"Big Red Bus" combined a story "about someone's life" with a reference to the tragedy of 9/11 and saw Reg on bass with Sanderson on soprano.
A new song "December" saw Karen demonstrating her keyboard skills with an electric piano solo. She had already amply demonstrated her vocal abilities with an assured, controlled performance throughout. Sanderson weighed in with another fine soprano solo. He is very much the band's star instrumentalist and his addition to the permanent line up has given the group a considerable boost.

The ethereal "Walking Not Running" saw him switch to bass clarinet with Reg adding guitar atmospherics and Beestin deploying finger cymbals for a novel but effective touch.

The insistent "Changes", another of Biggins songs about the nature of reality and the escape from it was based around a shuffling beat with Sanderson's tenor solo taking the instrumental honours.

Finally came "Disguise" another Biggins song based around Karen's semi spoken vocal and keyboard solo. This was an effective and fun way to end the set.
ZOO have a lot going from them and show considerable vocal and instrumental talent. They use a lot of jazzy chords and ideas, a touch of Norma Winstone here, a dash of Brazilian jazz stylings there. Ultimately they're rather difficult to pigeon hole which may count against them, but having said that I was very pleasantly surprised by ZOO (who are all very nice people by the way ), making this a very enjoyable way to start the day.
(Read the JazzMann's review of End of the Telegraph Wires)

---
General Zoo-related comments by The Que 98.2 Internet Radio, Utah, May 2008

Quite interesting and a band (also from London, UK) that could very well set the new standard for the Jazz Fusion genre is 'Zoo' with their, song you'll never guess the name will you? That's right the song is actually named 'Dirty', but there's nothing dirty about it at all. In fact the lyrics present quite an interesting story. The delicate arrangement of keyboard effects in this song makes it quite interesting to listen to.

Inspired by many of the Jazz greats like Miles Davis, Zoo is setting the trend for Jazz fusion in the future. I would like to invite all of you to learn more about the band and sample some of their unique music. Go to: zoo's websites at: www.zoo-music.co.uk

Zoo with their song Dirty still remain at number two this week. Miles Davis inspired I learned after Sunday night's radio interview. Popular these guys are. Will they ever come down off the top? Probably not.

---
"ZOO...nice music, but with a sinister edge..."
Andy Hawkins, Pravda Studios, Leeds

"SMOOTH! :-)"
Alex C, Stamford RiverCare Event, 2006

"ZOO's music has a great portability and accessibility, whilst still belonging to a contemporary framework..."
Arts Council, England

" 'Endangered Species' draws you into its own beautiful world and makes you want to listen right 'til the end"
'Blinded', Review 2005

" 'Greenhouse' reaches out and enchants."
Review by FATEA, 2007

" 'Suddenly' is slick and sexy, gently persuasive and very easy on the ear."

Review by

ToxicPete

, 2007

"ZOO...a band you should look out for - mellow but jazzy and at the same time mesmerizing ..."
Brian Maher, The Marrs Bar, Worcester

"ZOO...when they are most inventive they are at their best. Being daring really suits"
Live Review, 2003